If Safety is important to you then LED Whips should be on your Sandrail, Dune Buggy, Snowmobile, Quad, & even Motorcycle.  Our company moto is "Be Seen Be Safe".

Dunelights is a brand new company we made our debut at the Big Boys & Their Toys show 2008.
We are located in Phoenix, AZ, and have the exclusive rights to this new product of LED lights.  These LED's will not be available anywhere's else but through DUNELIGHTS.COM
DUNE LIGHTS is 9.8ft Universal LED light kits. They come in a roll and are easy to assemble. Dunelights provide safe light for easy recognition in the evening hours. Lighted Whips are great for any type of moving vehicle.  Sand Rails, ATV, Dune Buggies, Golf Cart, Rhino's, 5th Wheels, RV Trailers/ campsite locator's, handicap cart, boat, and even scooters. The possibilities are endless.  Its great fun to show off your toys in the night. Offroad or Onroad, We make showing off fun. Dune Lights provides universal 9.8ft. LED lights for all your toys. If you happen to break your whip, or staff, you can easily transfer our light strip to another whip, or vehicle in minutes. Without the expensive replacement costs, of re-tubing your lights.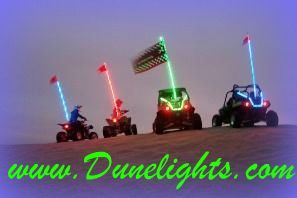 Custom LED Whips